So you're thinking about running an ad on LinkedIn. Good idea! The platform offers unsurpassed targeting tools and a professionally oriented audience, more than 500 million members strong. 
But first, we need to gain a firm grasp of the different types of LinkedIn ads, and how they align with varying business objectives. With this information in hand, you will be ready to achieve stellar results and get the most out of your ad spend.
The Basics of LinkedIn Ads
For a primer on the topic, check out our step-by-step guide on how to advertise on LinkedIn. It will walk you through the fundamentals of setup, targeting, budgeting, executing, and optimizing.
Here we will break down the distinctions between different LinkedIn ad formats, and explain why certain options will work better than others for specific purposes.
LinkedIn Ad Formats and How They Differ
This rundown provides everything you need to know when it comes to choosing the right self-service ad in Campaign Manager.
Sponsored Content
These native advertisements live directly within the LinkedIn feed, appearing alongside content LinkedIn members curate for themselves. You can think of them as promoted posts, as they are essentially amplified versions of the links, media, or messaging you would normally share through your Company Page.
LinkedIn Ad Specs for Sponsored Content
Title: 70 characters or fewer
Intro Copy: 150 characters or fewer
Display Image: 200px or more (1200×627 recommended)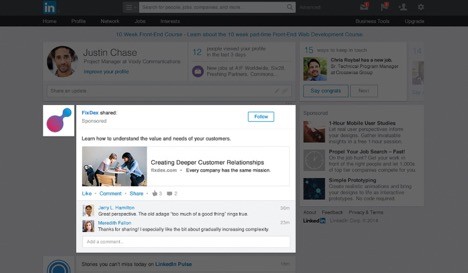 When to Use Sponsored Content
Raising awareness of company events or initiatives
Generating leads seamlessly with pre-filled Lead Gen Forms
Increasing qualified traffic to posts or pages
Boosting follower total
Generating more engagements with prospects
What You Can Achieve with Sponsored Content
See how a tailored Sponsored Content campaign led to LinkedIn becoming Percolate's top generator of leads from downloaded content, and how Percolate saw a 3X increase in Company Page followers.
Learn more about LinkedIn Sponsored Content
Sponsored InMail
Use this feature for sending personalized messages to highly targeted recipients. Because Sponsored InMail only delivers to active LinkedIn members, there is no need to worry about messages bouncing or landing in abandoned inboxes. You can tailor your content directly to the audience, and a responsive design ensures that your CTA button is always visible on any device. Use built-in A/B testing functionality to run multiple variations and optimize.
LinkedIn Ad Specs for Sponsored InMail
Sender Name: 25 character maximum suggested
Subject Line: 30 character maximum suggested
Body Copy: 1000 character maximum suggested
CTA Button Copy: 25 character maximum suggested
Banner Ad Dimensions: 300×250, .jpg/.gif/.png, 40 kb or fewer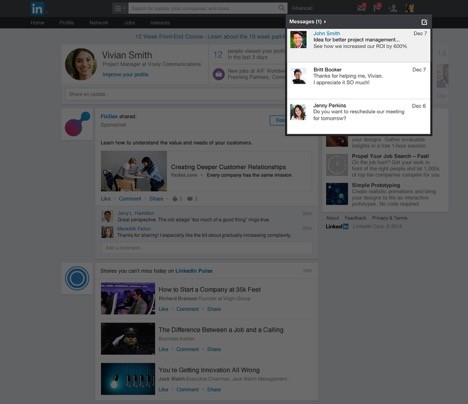 When to Use Sponsored InMail
Driving downloads of gated assets
Promoting webinars and special promotions
Generating B2B leads
Directly engaging valuable prospects or connections
What You Can Achieve with Sponsored InMail
Learn how Utah State attracted high-quality students with a targeted Sponsored InMail campaign.
Learn more about LinkedIn Sponsored InMail
Text Ads
This is LinkedIn's pay-per-click (PPC) platform, with ads that display on the side rail or inline. They are very easy to create, and as the name suggests you only pay based on clicks or impressions, so you can feel confident you are getting your money's worth. Using the extensive targeting tools available to you, it is easy to ensure your text ads are displaying to relevant audiences. Check out our guide to LinkedIn Text Ads Best Practices.
LinkedIn Ad Specs for Text Ads
Headline: 25 characters or fewer
Description: 75 characters or fewer
Image (optional): 50×50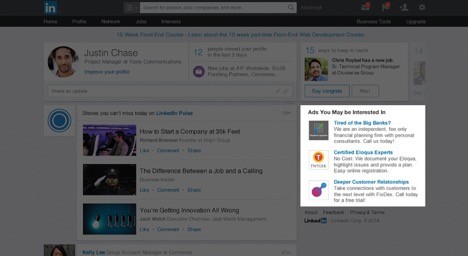 When to Use LinkedIn Text Ads
Targeting highly specific B2B audiences
Driving traffic to your website or specific landing pages
Attracting quality job candidates
Setting up easily measurable campaigns in tandem with Conversion Tracking
What You Can Achieve with Text Ads
Learn how HubSpot improved its click-through rate by 60% compared to other social networks by using precision targeting for text ads on LinkedIn.
Learn more about LinkedIn Text Ads
Next Steps with LinkedIn Ads
Now that you know the differences between LinkedIn Ad formats, you are ready to choose the right one for promoting your business. Head over to the Targeted Self-Service Ads page and learn how to launch your campaign.