Felix Martua (The Jakarta Post)

Jakarta   ●  
Wed, June 22, 2022

2022-06-22
14:00
9
e16ff64e7ecc29b417414912232c74e8
1
Entertainment
Movie,Ngeri-Ngeri-Sedap,Bataknese,Batak-people,Batak-opera,film
Free

The Batak-focused dramedy delivers a powerful statement to the country's film industry: that stories about minorities can sell cinema tickets without conforming to the preference of the majority.
Shock and awe was in the air when The Jakarta Post had an in-person sit-down with the cast and crew of Ngeri Ngeri Sedap on June 17. The ensemble had just celebrated the film drawing more than 1.5 million audience members in the two weeks since its theatrical premiere — making it (as of this article's publication) the fourth-most successful feature film in Indonesia, besting major studios' outings such as Dear Nathan: Thank You Salma and Merindu Cahaya de Amstel.
No one had expected such commercial success, let alone the creative people behind the film itself.
"It wasn't about realizing a magnificent or spectacular dream — let alone making a film that would end up as successful as this. My intention to make this film was sincere: this is a tribute to my family, my extended clan and the Batak tribe," asserted the film's director and screenwriter, Bene Dion Rajagukguk.
Produced by Dipa Andika, Ngeri Ngeri Sedap stars Arswendy Beningswara Nasution (Eliana, Eliana) and Tika Panggabean (Selesai) in lead roles. Rounding up the supporting cast are Boris Bokir Manullang (Toba Dreams), Gita Bhebhita Butar-Butar (Susah Sinyal), Lolox (Comic 8: Casino Kings Part 1) and Indra Jegel (the upcoming Satria Dewa: Gatotkaca). The film was released in theatres in Indonesia on June 2.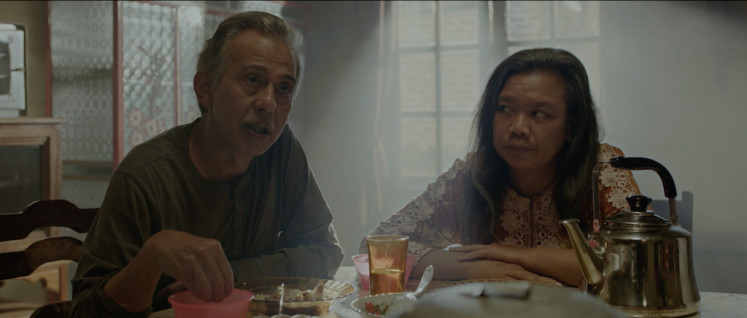 Parental discourse: Character actors Arswendy Beningswara Nasution (left) and Tika Panggabean (right) portray conservative Batak parents who struggle to connect with their modern-minded adult children. (Courtesy of Imajinari) (Courtesy of Imajinari/Courtesy of Imajinari)
A Batak convention
The development of Ngeri Ngeri Sedap dates back to 2014 when Bene published a comedy novel of the same title under Bukune publishing house. As he intended to write and direct a feature film that was inspired by, but not a direct adaptation of, the novel, multiple blocks and delays made for a rocky trajectory for the comedian, the biggest challenge being how to secure financing.
Cut to several years later, writer-director and fellow comedian Ernest Prakasa took interest in Bene's vision and offered him a chance to shoot the film under the former's recently established film-production company, Imajinari. Ngeri Ngeri Sedap ended up being Imajinari's inaugural feature project.
Looking back, Bene reflected that his perseverance to have the film made came from a place of "love".
"I just wanted to make a film that is dedicated to my beloved Batak culture. A film that would make my family happy. I made this film called Ghost Writer [an Indonesian comedy-horror feature that was released in theaters in June 2019] and my mom said, 'I'm so confused! I don't understand this film!' That's why I ended up thinking, 'How can I make something that would also entertain my family and my relatives?'" Bene reminisced.
For Bene personally, creating a love letter to his culture was not enough — he was also keen on exercising his creative muscle as a director and screenwriter. While he has been known for his work in comedy, he decided to turn Ngeri Ngeri Sedap into a dramedy affair instead, believing that the dramatic elements would make the film's messages more convincing in the eyes of the audience.
He continued, "If the comedic elements dominated the film, people would remark, after leaving the theaters, 'Wow, the film was really funny!' Whereas the messages I'd like to deliver might not leave the intended 'mark'.
"That's why, from the very beginning, I'd like to express, like, 'Yes, there's humor in this film, but that's not what we exactly want to deliver.'" 
There was a little difficulty, however, in rounding up the cast. The film's lead actor, Arswendy, was immediately drawn to the project after reading the script.
"This film is very ironic," he remarked, "because it deals with the clash between tradition and the modern youth. I love it so much. I see this film as neither a comedy nor a drama and, truth be told, this is what our filmmaking convention should be: no segregation between comedy and drama — just like the classic Batak operas."
Hot on the heels of 2021's Netflix feature Ali & Ratu Ratu Queens, Tika chose Ngeri Ngeri Sedap as her follow-up project because of her desire to take part in a project that utilizes the Bataknese custom as the backdrop of the story.
"I feel like I'm a true, genuine, Bataknese daughter, but I have never been a part of this kind of film," she said, laughing, "so there was a sort of longing."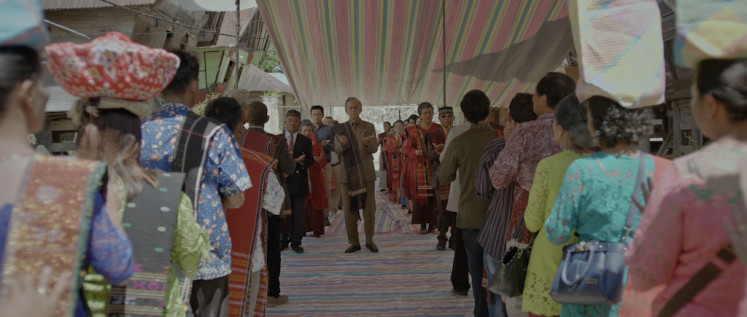 Modern conservatives: 'Ngeri Ngeri Sedap' tackles themes such as conservative Batak values, inter-ethnic relationships and Christian marriage. (Courtesy of Imajinari) (Courtesy of Imajinari/Courtesy of Imajinari)
Not a 'Christian film'
Running for one hour and 54 minutes, Ngeri Ngeri Sedap tells the story of Pak and Mak Domu (played by Arswendy and Tika, respectively): a traditional Batak couple who are having difficulty reconnecting with their adult sons (played by Boris, Lolox and Indra) who have wandered about in different provinces of the country — each of whom has their own reason for refusing to return to their home village in Toba, North Sumatra. 
At their wit's end, Pak and Mak Domu decided to invent a family crisis big enough to finally attract their sons' attention: that they are about to get a divorce. Driven by concern and guilt, the sons reluctantly visit their parents and the sole daughter who has been taking care of them (played by Gita).
To make sure that the film does not come across as another "stereotypical" palaver, Bene's key solution was simple, but effective. "What I depict is what I have been through myself," he stated.
Bold choices were made to guarantee the authenticity of the Toba-Bataknese culture as depicted in Ngeri Ngeri Sedap. Case in point, the film deliberately showcases pork-based traditional dishes such as saksang and the "massive" portrait of Jesus Christ installed on the many walls of Pak and Mak Domu's house. Realistically speaking, Dipa concurred that such elements could potentially turn off the film's audience — especially considering that Muslims still make up the majority of the country. Ultimately, he decided to put his faith in Bene's story and message.
"We figured that there should be no issue, religion included, as long as the story packs an enormous power," said Dipa. That said, as the film's producer, he was also careful not to inadvertently promote Ngeri Ngeri Sedap as a "Christian film".
Besides the conservative Batak life, the film also depicts contemporary issues often faced by most Bataknese families — one of them being how to embrace inter-ethnic relationships. Portraying Domu, the eldest son who is secretly engaged to a Sundanese woman, Boris concurred that his character and his testy relationship with Pak Domu might provoke the ire of conservatives.
"What is exciting about this film is there are splitting teams: Team Domu and Team Parents. The older audience would generally be, like, 'Nope, that just wouldn't do!' But the younger ones would find Domu to be their hero. They relate to him," Boris observed.
The dramatic moments of the film prove to be the biggest challenge for some of the actors — most of whom happen to be stand-up comics and not trained thespians. The climactic scene, in particular, demanded a long take from the cast, not to mention the emotional punch that each of the cast members must deliver.
"On that day, everyone agreed not to joke around outside the take. It was such an atmosphere — as if I were about to vomit. My stomach acid was fluctuating and I couldn't stop thinking about the scene," quipped Indra who is mostly known for his prior comedy features such as My Stupid Boss 2 and Teachers.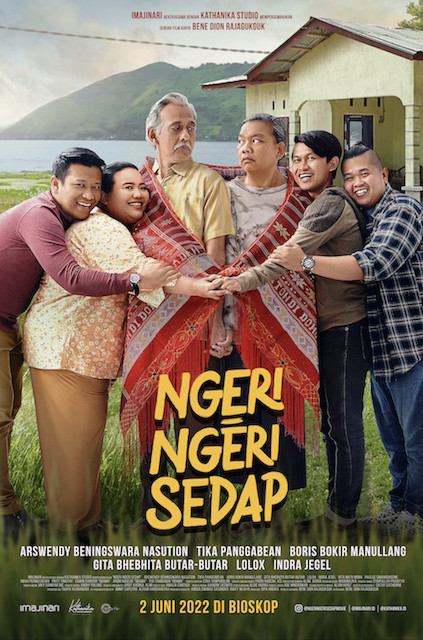 Minority issue: 'Ngeri Ngeri Sedap' was inspired by writer-director Bene Dion Rajagukguk's cultural upbringing. (Courtesy of Imajinari) (Courtesy of Imajinari/Courtesy of Imajinari)
'Unprejudiced' audience
Dissecting the unexpected commercial success of Ngeri Ngeri Sedap, Dipa deduced that the film was able to create a "sense of belonging" that stretches beyond the audience's cultural and religious background.
"I happen to hail from a Javanese family, and when I brought my family to see the film, they didn't see it as a Batak film. Instead, it's a family film that happens to use Batak culture as its backdrop. That's why they feel like they can connect to it," he opined.
Understanding how a film about a minority can appeal to the majority of the country, Tika was convinced that, in the eyes of the modern audience, "religion is no longer their concern. What's important is that the film is good," she remarked before highlighting that the Indonesian audience "has grown sophisticated".
Sharing a similar sentiment as Tika's, Arswendy believed that the nationwide success of Ngeri Ngeri Sedap is "no lucky feat".
"I'd like to emphasize, once again, that our people have become so open and so unprejudiced. If that were not the case, it would be because of the politics," he concluded.
Ngeri Ngeri Sedap is available to watch in theaters across Indonesia.